Educational Seminar: Z Alexander Brown Wines
Tuesday October 20, 2020 6:00 PM - 7:00 PM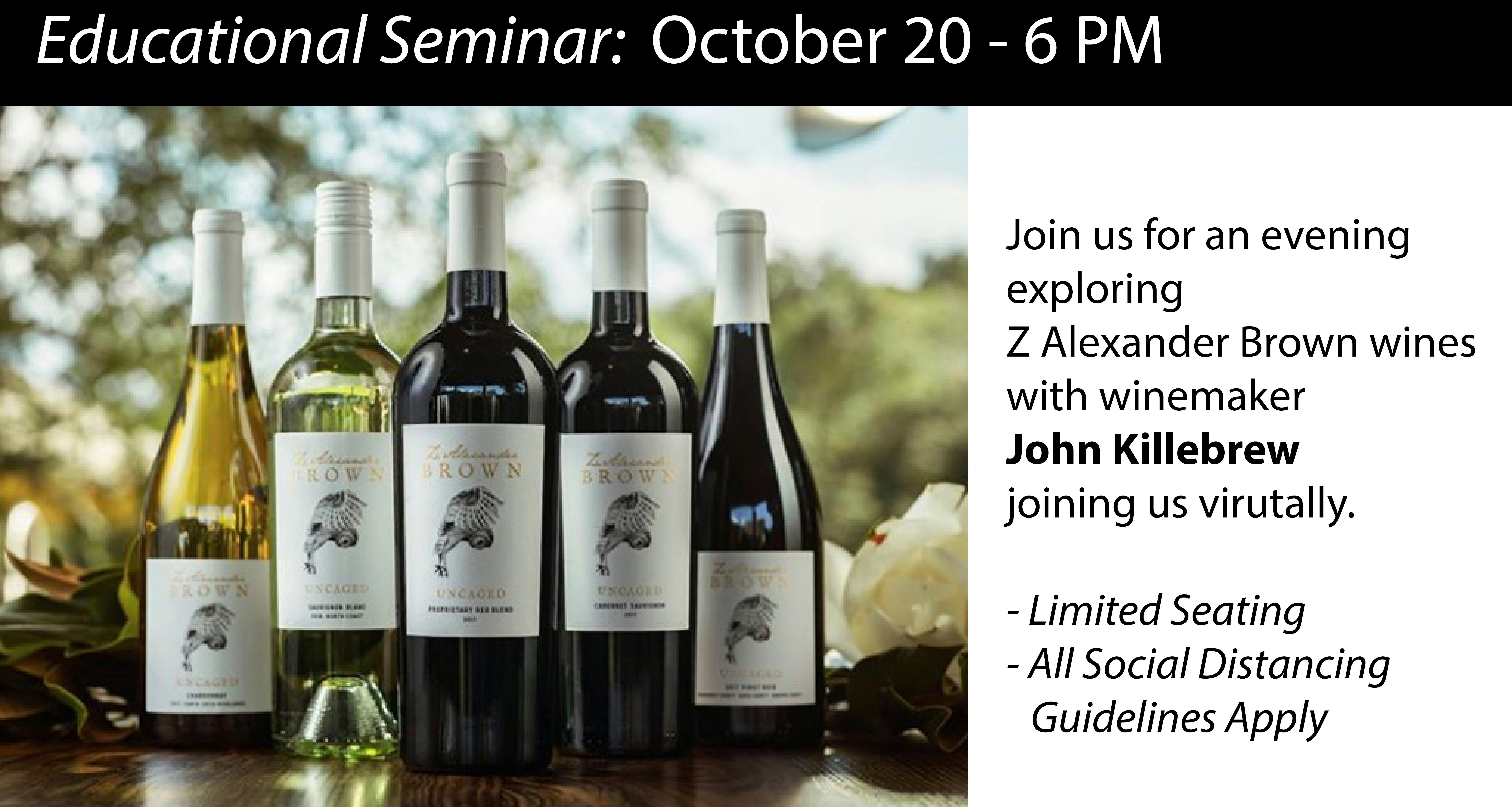 Zac Brown has always been a man on a journey. Most know him for his music, yet his artistry and creative spirit are without boundaries. No matter where the adventure takes him, Zac has always remained downhome and truthful to his roots. His lifelong connection to the land and passion for bringing music, food, and people together was a natural path to wine.
John Killebrew, who grew up in California, developed a love for nature, gardening, cooking, and music at an early age. Though he and Zac grew up on opposite ends of the country, distance did not stop them from sharing a common passion and respect for the land.
As a winemaker, John is able to tap into his desire to make things with his own hands, stay immersed in nature, and find each season's expression through the vines. Z. Alexander Brown is the reward of this relentless commitment and partnership with Zac to create bold "uncaged" wines rooted in the heart of California wine country.
We will be tasting:
Z Alexander Brown Pinot Noir
Z Alexander Brown Sauvignon Blanc
Z Alexander Brown Cabernet
Z Alexander Brown Chardonnay
New we will be offering individual charcuterie boards from local caterer, The Daily Dish, with this seminar.  
To order, click here.
Special COVID-19 Tasting Guidelines:
Please note that seating for our in-person seminars is very limited, and strictly advance reservations are required. We also ask that you list each attendee's name on your registration: do not enter the registrant's name multiple times, please.
We are honoring all Williamson County COVID-19 requirements, and masks are required for entry. Once seated at your table, masks may be removed unless you leave you table to visit the restroom or other areas of the restaurant space.
We are trying out a new partnership with a local caterer, The Daily Dish, where attendees are encourage to order individual charcuterie boards to accompany their wines during the tasting. * These are not required for purchase, but if you bring your own food, please do not share with other attendees in the room. We want to continue hosting educational seminars, but strict social distancing must be followed for us to safely be able to do so.
Wines will be pre-poured in labeled carafes, so interaction with our staff will be minimal.
Because of our very limited capacities, guests are only allowed to register for one seminar event per month. We want to allow as many customers as possible to join us once again for seminars. We appreciate your cooperation.
To register for the seminar, click here.
---