Educational Seminar: Altos Tequila
Wednesday October 28, 2020 6:00 PM - 7:00 PM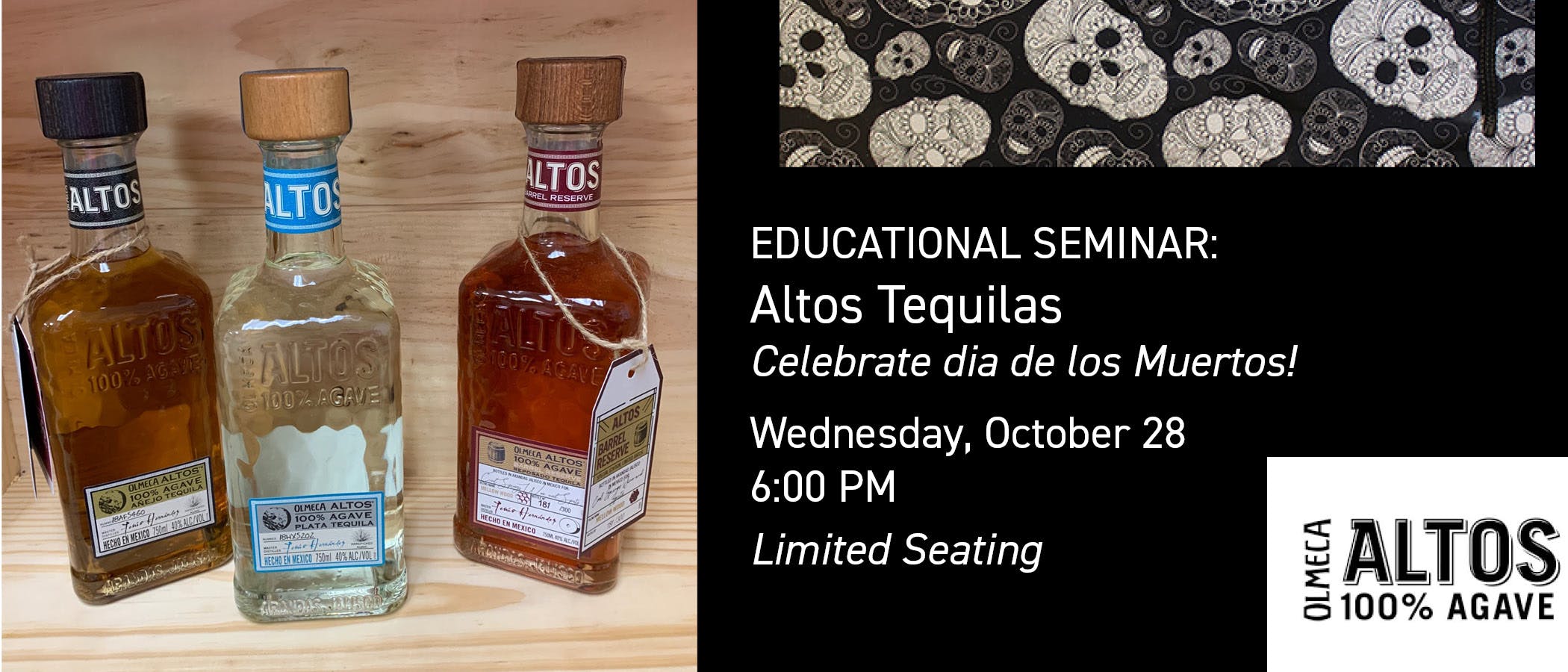 Join us as we compare Altos Tequila options with brand ambassador Valerie Alvarado on Zoom, and we'll be creating a signature cocktail with our Single Barrel.
We will also be celebrating Day of the Dead with style!
Valerie has working in the industry for over 15 years and has even visited distilleries in Jalisco.
Be sure to join us for this exciting opportunity to learn more about Altos Tequila…. taste our signature mellow-wood finished Reposado.
You will leave knowing how to create your own cocktails at home for the holiday weekend and the history of our amazing tequila.
We will be tasting:
Altos Reposado (Cool Springs Wines & Spirits Single Barrel)
Altos Blanco
Altos Anejo
Special COVID-19 Tasting Guidelines:
Please note that seating for our in-person seminars is very limited, and strictly advance reservations are required.
We are honoring all Williamson County COVID-19 requirements, and masks are required for entry. Once seated at your table, masks may be removed unless you leave you table to visit the restroom or other areas of the restaurant space.
We are learning along with everyone on best practices with holding smaller seminars and including the virtual components.
We are trying out partnering with a local caterer on individual sampler boards for your enjoyment during the tasting. They are not required that you purchase, but we are not providing any food otherwise.
The two options we have selected to best pair with the tequila are:
#1 - Nuts, cheeses, and dark chocolate
To order this option, click here:
#2 - Dried fruits, cheeses, and olives
To order this option, click here:
Spirits will be pre-poured in labeled carafes, so interaction with our staff will be minimal.
Because of our very limited capacities, guests are only allowed to register for one seminar per month. We want to allow as many customers as possible to join us once again for seminars. We appreciate your cooperation.
To register for this seminar, click here.
---