Sippin' Sundays: Bourbon
Sunday February 7, 2021 4:00 PM - 5:30 PM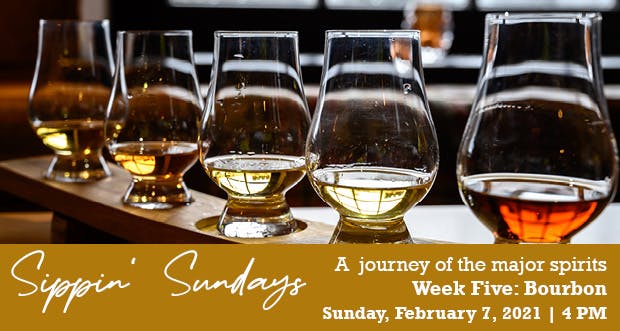 Each week an intimate group of enthusiasts will enjoy a deep dive highlighting 5-6 major distillers of the chosen spirit lead by a Certified Wine and Spirits Specialist. Session is lead by our Education Director, Pam Howard.
On February 7 we will be exploring bourbon.
All sessions will be held in the Overlook Room of Cool Springs Wines & Spirits on the Mezzanine level. Please note this venue does involve stairs for attendees.
Reservation fee of $40 for each tasting. Seating is limited.
NOTE: This is a reservation fee, and after each guest leaves the tasting, he/she will be given a gift card for the amount they paid to use in the store below.
Non-cancellable. Non-transferable. Non-refundable.

To register, click here.
---