Educational Seminar: Zanotelli Wines
Tuesday February 23, 2021 6:00 PM - 7:30 PM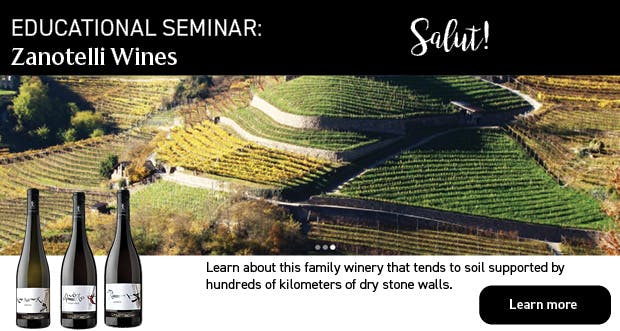 Zanotelli is a family run winery that has worked since 1860 the rugged slopes of Valle di Cembra, (or Cembra Valley), where over seven hundred kilometers of dry stone walls support today about three hundred hectares of vineyards. (And you thought gardening was difficult in your yard!)
This area is known to be the icon of terraced mountain agriculture, and the passion for winemaking shows throughout the entire family who work these lands.
Greg Sisto of Vivino Imports will be taking us a tour of this unusual Italian winery, and sampling some delicious fruits of their labor.
Wines being shown are below:
Zanotelli Kerner
Zanotelli Gewurztraminer
Zanotelli Pinot Nero
Zanotelli Lagrein
Please note: There is a $30 reservation fee for each ticket requested. 
Once requested, reservations are final. When you check in at the seminar, you will be given a $30 store gift card. If you do not attend, you forfeit the reservation fee.
Special COVID-19 Tasting Guidelines:
Please note that seating for our in-person seminars is very limited, and strictly advance reservations are required. We also ask that you list each attendee's name on your registration: do not enter the registrant's name multiple times, please.
We are honoring all Williamson County COVID-19 requirements, and masks are required for entry. Once seated at your table, masks may be removed unless you leave you table to visit the restroom or other areas of the restaurant space.
We will not have a food buffet as has happened in the past, so if you wish to bring your own snacks to accompany the wines, please feel free to do so.
Wines will be pre-poured in labeled carafes, so interaction with our staff will be minimal.
We appreciate your cooperation.
To register, click here.
---