Educational Seminar: Neyers Winery
Tuesday March 2, 2021 6:00 PM - 7:30 PM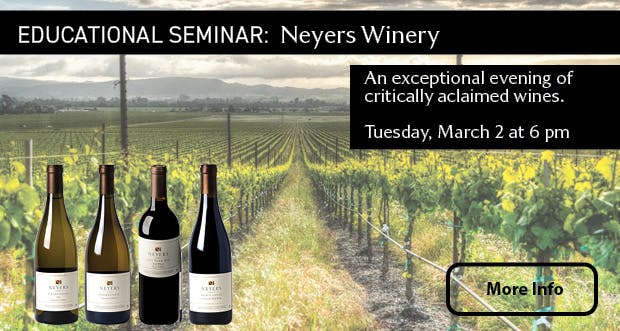 Neyers Winery is part of Trinchero Wine Estates. The beautiful vineyards of Conn Valley Ranch and Sage Canyon Winery are ideal for growing outstanding grapes.
Our presenter this evening will be Jason Doble, Field Development Manager at Trinchero Wine Estates. Jason has held regional and national roles with both large and small wineries in a career that has spanned almost 25 years. He is a member of the Society of Wine Educators and holds both the Certified Specialist of Wine and Certified Specialist of Spirits.    
Wines being shown are below:
Neyers 304 Chardonnay
Neyers Carneros Chardonnay
Neyers Sage Canyon Red Blend
Neyers Left Bank Red
Please note: There is a $30 reservation fee for each ticket requested. 
Once requested, reservations are final. When you check in at the seminar, you will be given a $30 store gift card. If you do not attend, you forfeit the reservation fee.
Special COVID-19 Tasting Guidelines:
Please note that seating for our in-person seminars is very limited, and strictly advance reservations are required. We also ask that you list each attendee's name on your registration: do not enter the registrant's name multiple times, please.
We are honoring all Williamson County COVID-19 requirements, and masks are required for entry. Once seated at your table, masks may be removed unless you leave you table to visit the restroom or other areas of the restaurant space.
We will not have a food buffet as has happened in the past, so if you wish to bring your own snacks to accompany the wines, please feel free to do so.
Wines will be pre-poured in labeled carafes, so interaction with our staff will be minimal.
We appreciate your cooperation.
To register, click here.
---