Poppa P's April Cigar Specials
March 29, 2021 12:00 PM - 12:00 PM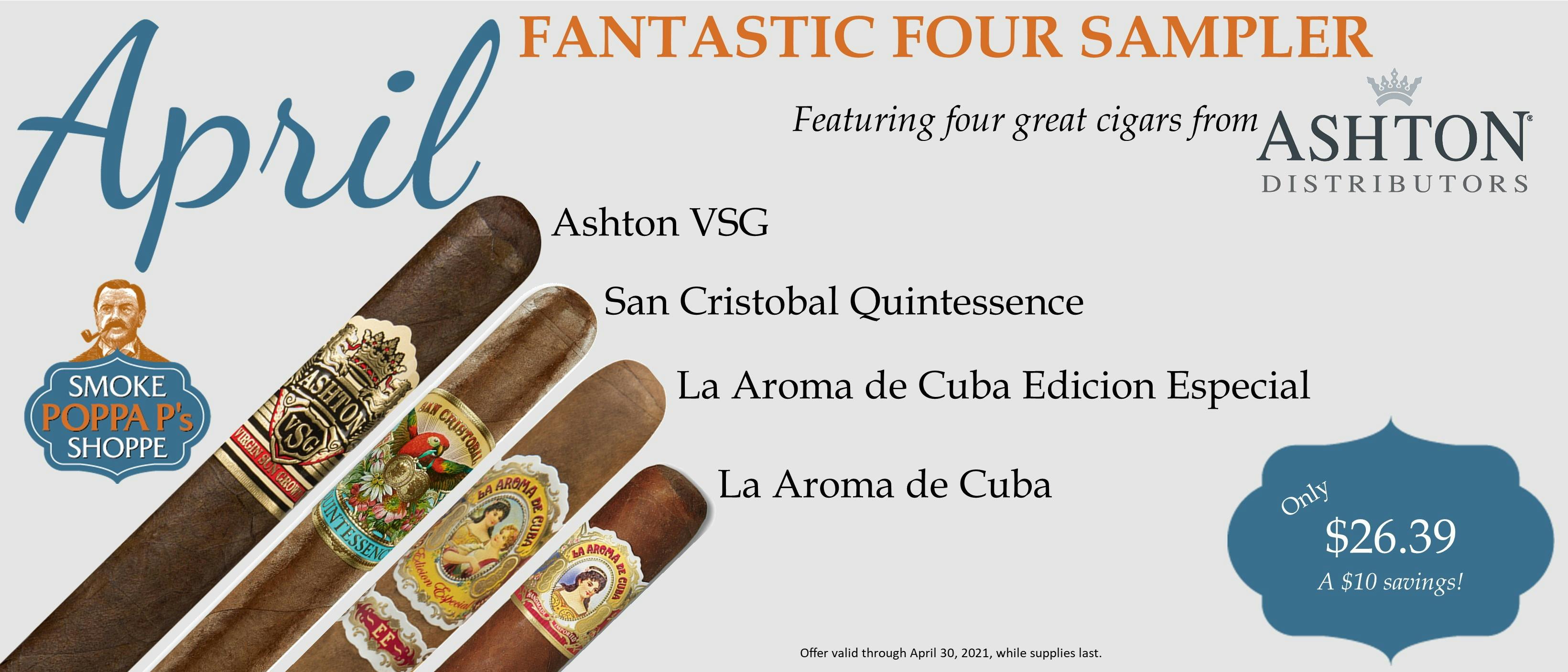 Poppa P's April Fantastic Four Sampler
Four FANTASTIC cigars from Ashton at a FANTASTIC price!
Ashton VSG Robusto
La Aroma de Cuba Edicion Especial # 3
San Cristobal Quintessence Robusto
La Aroma de Cuba Corona
$26.39
A savings of $10!
April Featured Cigars – Perdomo Double Aged 12 Year Vintage
A blend of PERDOMO's finest and most cherished 12-year aged wrappers, binders, and fillers, these rare tobaccos have been carefully bale-aged for ten years and then bourbon barrel-aged for an additional two years. Using a proprietary double-aging process, each leaf used to make the PERDOMO Double Aged 12-Year Vintage is aged in charred, white oak bourbon barrels. This unique double-aging process ensures the perfect color, texture, aroma, and flavor in these tobaccos, making each cigar a well-balanced and full-flavored smoking experience.
These cigars are available in three different wrappers and each pair up very well with bourbon or scotch.
The PERDOMO Double Aged 12-Year Vintage Connecticut is blended with a beautiful bourbon barrel-aged Ecuadorian Connecticut wrapper combined with rare bourbon barrel-aged Cuban-seed Nicaraguan binder and filler tobaccos offering a creamy smoke with hints of caramel and cedar, with a rich, buttery finish. Mild to Medium Bodied
The PERDOMO Double Aged 12-Year Vintage Sun Grown is blended with a rich bourbon barrel-aged Nicaraguan Sun Grown wrapper combined with rare bourbon barrel-aged Cuban-seed Nicaraguan binder and filler tobaccos offering a rich, earthy smoke with a spicy-sweet complexity, slight hints of oak and almond, and a long warming finish. Medium to Full-Bodied
The PERDOMO Double Aged 12 Year Vintage Maduro is blended with a gorgeous bourbon barrel-aged Cuban-seed Nicaraguan Maduro wrapper combined with rare bourbon barrel-aged Cuban-seed Nicaraguan binder and filler tobaccos offering a smooth smoke with a natural sweet complexity and a rich, robust finish. Medium to Full-Bodied
---