Educational Seminar: Optik Wines
Tuesday June 14, 2022 6:00 PM - 7:30 PM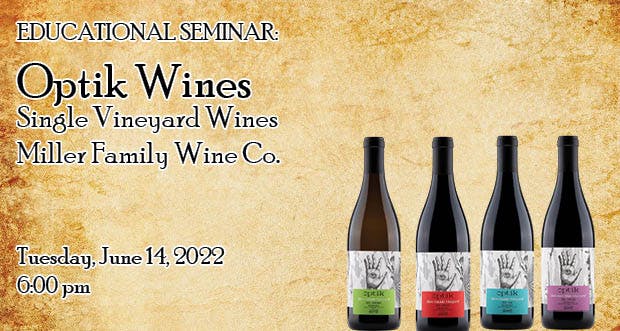 Two Iconic Vineyards, Seen Through a New Lens
Two of California's most iconic vineyards. A rock star winemaker. A collaboration of epic proportions. This is optik. Each of our wines is crafted by acclaimed winemaker Joey Tensley, with hand-selected fruit from the renowned blocks of Bien Nacido and Solomon Hills Vineyards. These wines celebrate his unique, visionary perspective, resulting in limited-release, signature masterpieces. They are the same vines that we know and love – but this time, seen through an entirely new lens.
We will be tasting:
2020 Chardonnay - Bien Nacido Vineyard
2020 Pinot Noir - Bien Nacido Vineyard
2020 Syrah - Bien Nacido Vineyard
2020 Pinot Noir - Solomon Hills Vineyard
Please note: There is a $40 reservation fee for each registrant. When you check in at the seminar, you will be given a $40 store gift card. If you do not attend, you forfeit the reservation fee.
Once requested, reservations are final.
To register, click here.
---