Educational Seminar: Tenuta Santi Giacomo e Filippo
Tuesday September 27, 2022 6:00 PM - 7:30 PM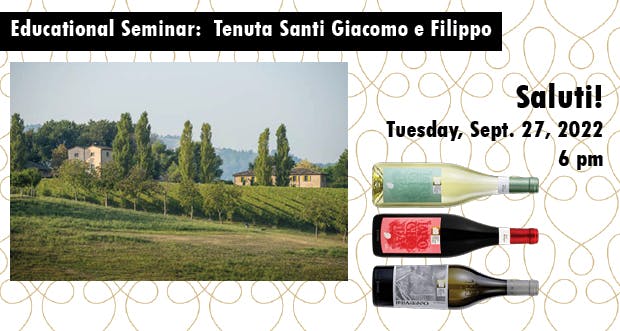 We are very honored to have the owner of Tenuta Santi Giacomo Winery, Marianna Bruscoli, joining us for a tremendous evening.
This winery in the Marche Region of Italy, and in their words "the land rewards our love, patience, and respect for its rhythm by gifting us with better wines." What a tremendous statement, and so indicative of the care they bring to each and every bottle.
We will be tasting:
Tenuta Santi Giacomo La Fogliola Bianco 2020
Tenuta Santi Giacomo La Fogliola Rosso 2020
Tenuta Santi Giacomo Bellantonio Bianco 2018
Tenuta Santi Giacomo Bellantonio Elevato 2018
Tenuta Santi Giacomo Fortecole Rosso 2018
Please note: There is a $25 reservation fee for each registrant. When you check in at the seminar, you will be given a $25 store gift card. If you do not attend, you forfeit the reservation fee. Once requested, reservations are final.
To register, click here.
---