Single Barrel Saturday
Saturday October 1, 2022 3:00 PM - 4:30 PM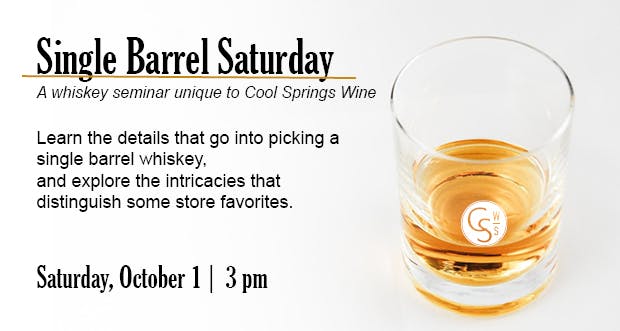 Ever wonder what goes into picking a single barrel whiskey? We thought so.
On Saturday, October 1 we will be hosting our inaugural educational seminar sharing all these details, and exploring in depth some current inventory store favorites.
Pam Howard, CSW, CSS, EBS - our Education Director, will be sharing her process for selecting the perfect barrel for our store, as well as comparing and contrasting some favorites to help attendees further develop their palates.
As a fun side bonus, each of the individuals registered for Single Barrel Saturdays this year will be entered into a drawing, and one lucky person will have the chance to go with our team and pick a barrel for our 2023 inventory. The date and time of barrel picks are determined by the distillery, we do not have control for scheduling.
All sessions will be held in the Overlook Room of Cool Springs Wines & Spirits on the Mezzanine level. Please note this venue does involve stairs for attendees.
Ticketing fee of $40 for this event.
To register, click here.
---