Educational Seminar: Prisoner Wine Company
Tuesday October 18, 2022 6:00 PM - 7:30 PM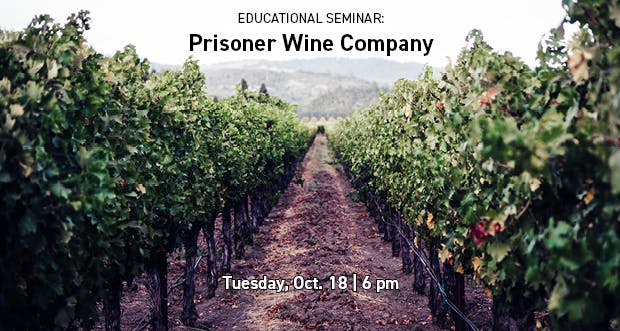 Prisoner Wine Company has grown to include a range of rule-bending blends with provocative label designs, being recognized by fans and wine critics alike as one of the most bold and innovative wine brands in the market, leading the resurgence of California luxury red blends and earning "cult" wine status.
We are delighted to have their rip joining us to share some wines from Prisoner and Saldo.
We will be tasting:
Saldo Chenin Blanc
Saldo Red Blend
Saldo Zin
Prisoner Pinot Noir
Prisoner Cabernet
Please note: There is a $25 reservation fee for each registrant. When you check in at the seminar, you will be given a $25 store gift card. If you do not attend, you forfeit the reservation fee. Once requested, reservations are final.
To register, click here.
---