Catoctin Creek Bottle Signing
Friday September 30, 2022 3:00 PM - 5:00 PM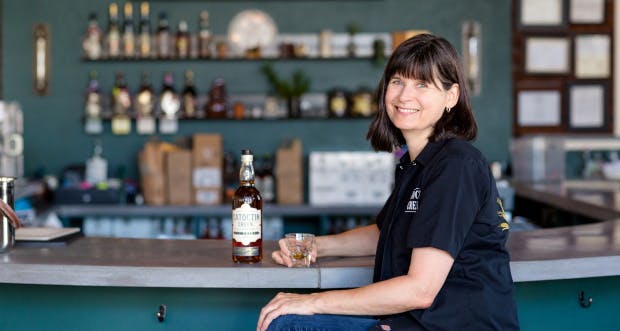 Join us as we welcome Becky Harris, Chief Distiller and President of Catoctin Creek!
Virginia's most awarded whisky, Catoctin Creek has some fantastic rye whisky, pot-stilled from 100% organic local rye. Smooth, delicious and totally drinkable!

Becky will be signing bottles during the event, so stop by and pick one up!!

In Collaboration with GWAR. The mad scientists at Catoctin Creek conducted experiments on aging the blood of GWAR in barrels made from the different types of wood scorched by the comet's blast. They used the rarest of grains and watered their mash bill with the melted Antarctic ice to create a 92 strength rye whisky, pot stilled and then aged in charred new white oak. Members of GWAR then hurled the whiskey barrels into the orbit of the moon, causing contraction to take place as the barrels spun under the influence of the deathly coldness of space and the life-giving heat of the sun. The end result was Ragnarök Rye, an exquisite beverage graced with notes of cherrywood and sugar maple to produce subtle flavors unheard of in a traditional rye whisky.
$99.99

The best we make! Our most awarded whisky. The cask proof version of our ever-popular Roundstone Rye is a very special expression. Released at approximately 58% ABV (it varies depending on the individual barrels), this is seriously strong whisky! Delicious, dark, complex and ridiculously smooth for the proof, Roundstone Rye Cask Proof is released only about twice per year.
$77.99
---