Educational Seminar: Falesco Winery
Thursday September 29, 2022 6:00 PM - 7:30 PM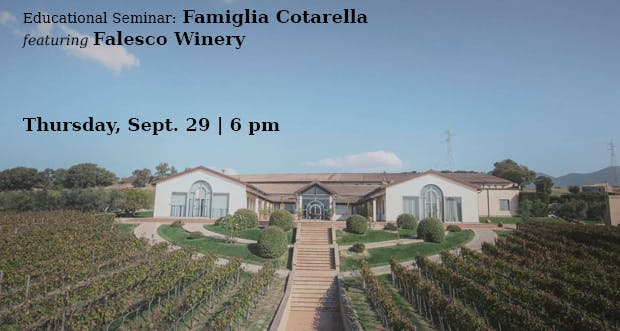 Andrea Leone will be in attendance from Famiglia Cotarella. Andrea is the Export Director for Famiglia Cotarella, a winemaking family that built its first winery in the sixties to make their wines.
Quickly started wine production by 1979 with the Falesco label and never looked back.
The wines presented will be:
Cotarella Ferantano - 100% Roscetto
Cotarella Sodale - 100% Merlot
Montiano - 100% Merlot
These wines are new to the Nashville Market and have very limited availability. We are honored they have chosen Cool Springs Wine & Spirits to introduce them to the area.
Please note: There is a $25 reservation fee for each registrant. When you check in at the seminar, you will be given a $25 store gift card. If you do not attend, you forfeit the reservation fee. Once requested, reservations are final.
To register, click here.
---