Educational Seminar: Ole & Obrigado
Tuesday October 4, 2022 6:00 PM - 7:30 PM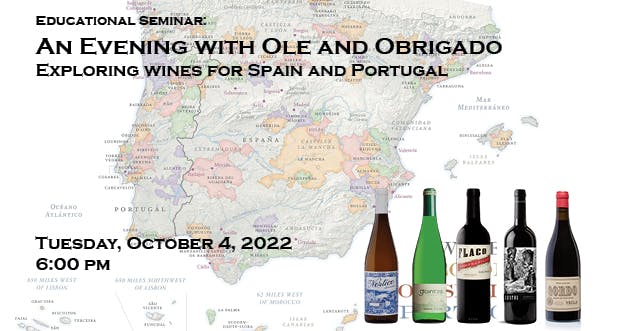 Olé & Obrigado represents a collection of fine wines crafted by family-owned wineries in Spain and Portugal. A collaboration among business partners Patrick Mata, Alberto Orte and Rui Abecassis, Olé & Obrigado is a highly specialized wine import company offering the most comprehensive and well-curated collection of wines from the Iberian Peninsula available in the U.S.
Nicolas Quinoñes of Olé/Obrigado Imports will be sharing some terrific vintages from their specialty areas of Spain and Portugal with us.
The wines presented will be:
Nortico Alvarinho
Gaintza Txakolina
Flaco Tempranillo
Zestos Old Vine Garnacha
Gordo
Please note: There is a $25 reservation fee for each registrant. When you check in at the seminar, you will be given a $25 store gift card. If you do not attend, you forfeit the reservation fee. Once requested, reservations are final.
To register, click here.
---