Educational Seminar: Duckhorn Vineyards
Tuesday November 1, 2022 6:00 PM - 7:30 PM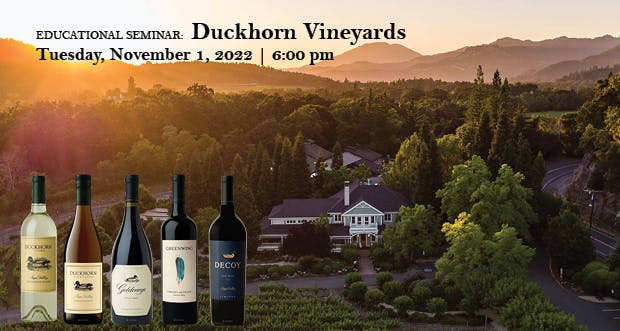 A Napa Valley classic, an American icon.
Co-founded by Dan and Margaret Duckhorn in 1976, Duckhorn Vineyards has spent forty years establishing itself as one of North America's premier producers of Napa Valley wines. From its modest inaugural vintage of 800 cases of Cabernet Sauvignon and 800 cases of Merlot in 1978, to its addition of Sauvignon Blanc in 1982, Duckhorn Vineyards has crafted a tradition of quality and excellence that continues today.
Join Ross McArthur for an evening exploring some outstanding wines.
We will be tasting:
Duckhorn Sauvignon Blanc
Duckhorn Chardonnay
Goldeneye Pinot Noir
Greenwing Cabernet Sauvignon
Duckhorn Napa Valley Cabernet Sauvignon
Decoy Limited Red Blend
Please note: There is a $25 reservation fee for each registrant. When you check in at the seminar, you will be given a $25 store gift card. If you do not attend, you forfeit the reservation fee. Once requested, reservations are final.
To register, click here.
---