Educational Seminar: Winery Aubert & Mathieu Winery
Tuesday October 25, 2022 6:00 PM - 7:30 PM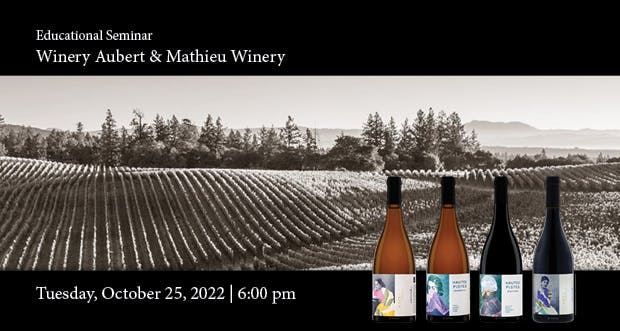 Between tradition and modernity
Aubert & Mathieu create fresh, modern and committed wines by Languedoc-Roussillon, all in a responsible way.
The strength of Languedoc Roussillon wines and its vineyards is the diversity of its climates , its soils and its grape varieties . This richness makes it possible to produce Languedoc Roussillon wines with varied profiles: original and gourmet.
Shelly Louallen is excited to introduce you to these wines.
We will be tasting:
Kate Sauvignon Blanc
Hautes Pistes Chardonnay
Hautes Pistes Pinot Noir
Amy Syrah Grenache
Please note: There is a $25 reservation fee for each registrant. When you check in at the seminar, you will be given a $25 store gift card. If you do not attend, you forfeit the reservation fee. Once requested, reservations are final.
To register, click here.
---